Shawn Wayans, Tommy Davidson, David Alan Grier bring 'Off Color Comedy' to Hard Rock Live
By Joel Pace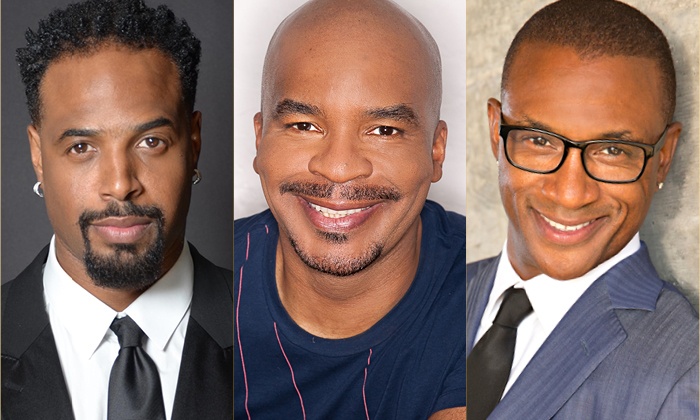 Off Color Comedy: In Living Color was a cultural phenomenon when it debuted on Fox in 1990. It was a bold, raw, raucous laugh fest with a majority black cast and a distinctive family feel.
It was, in fact , a family affair, led by Keenan Ivory Wayans who, with his siblings and hilarious friends -- among them David Alan Grier and Tommy Davidson -- created something historic every Sunday night.
Shawn Wayans remembers fondly his days on set. He was a teenage kid having the time of his life.
"The funnest, funnest, funnest thing I ever did was 'In Living Color.' That was just the most explosive laugh fest ever, period. It gave us headaches with laughter. It was thee most fun I ever had in this business. I was 19!" said Wayans.
"Everybody tore everybody up. And as funny as the sketches were on TV, what was happening behind the scenes was even funnier and most of the stuff that made it to TV started behind the scenes," he said.
Perhaps there will be some behind the scenes magic Saturday as three of the In Living Color cast members gather for a stand-up comedy show at the Hard Rock Live inside the Hard Rock Rocksino in Northfield.
Shawn Wayans, Grier and Davidson will perform in the first stop on their "Off Color Comedy" tour.
Does it presage a reunion of the show one day?
"I have no idea. For me, it's just getting together with my schoolmates and doing some fun gigs. Who knows, though. You never know," said Wayans, who has worked extensively post 'In Living Color' with his brother Marlon, who headlined at the Hard Rock Live in 2016.
Davidson hopes a reunion of the show happens and why not? If 'Full House' and 'Roseanne' and 'Will & Grace' can make a comeback, why not a landmark show like 'In Living Color?'
"If it was up to me, it would be back. According to Shawn, he's going to try to encourage Keenan to get this thing cracking. We don't move without him. He's the Professor Xavier of us all," said Davidson, whose most recent TV gig has been hosting 'Vacation Creation,' a kind of "Extreme Home Makeover" for family vacations.
Said Shawn Wayans: "As far as 'In Living Color' goes, that would be a difficult show to pull off today. Back when we did it, you were able to do whatever you wanted to do. I don't know if that's where we're at anymore. If they let us push the envelope, you guys will get some fun stuff."
Until then he and Davidson and Grier will push the envelope for fun stuff in individual stand-up sets.
"What can people expect? What they always got. I'm sort of like the Rubik's Cube of comedy, color on each side no matter how you twist it. There will be good action like always. You'll get impressions. And there's a lot more depth going on in the subjects. And I can go from talking about Trump and his State of the Union address to if a dog will bite or not. I can show you the difference between a white guy hearing a gunshot and an old black man hearing a gunshot," said Davidson.
Wayans promises energy.
"You're going to see funny, honest, physical humor. Everything. I talk about everything," he said. "Is anything off limits? Yeah, stuff that ain't funny."
The Off Color Comedy Tour with Shawn Wayans, Tommy Davidson and David Alan Grier is at 8 p.m. Saturday at the Hard Rock Live inside the Hard Rock Rocksino, 10777 Northfield Rd., Northfield. Tickets are $39 to $79. Go to hrrocksinonorthfieldpark.com or call Ticketmaster at (800) 745-3000.